Hard times
Being a White Sox fan right now isn't easy - the team has lost 9 of its last 12 games (including two 2-run losses and six heartbraking 1-run losses). The frustration the team and its fans must be feeling can be seen on the face of manager Ozzie Guillen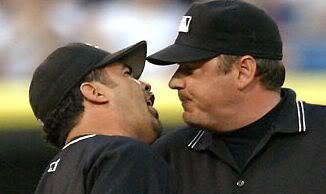 who got ejected in the first inning of
last night's game
against the Indians for arguing a stolen-base call.
As a self-professed 'fan of the game' I take no delight in seeing any club's fans suffer, but sometimes that suffering, that living and dying with the team makes for a good blog, and
so what if i smash it?
- a White Sox blog - is just that and well worth taking the time out to read.