Leaving it late
They might have left it to the bottom of the ninth with two outs and two strikes on David Dellucci, but the Rangers came through in the clutch yesterday with a
5-4 victory
over AL West rivals Oakland. When Brian Roberts slid into home plate to score the winning run you could would have thought that the Rangers had just won the World Series - the 23,075 fans in Arlington went wild, but then they have every reason to do so. Over the last three years (2001-2003) Texas has finished 43, 31 and 25 games behind the division winner; this year they are just two games back, with 10 games to play. They've had some good streaks all year, but they couldn't have picked a better time to have
this
one: Oakland has lost its last three games (to Texas) and is 4-6 over its last ten; Anaheim has lost its last two and is also 4-6 over its last ten; Texas, meanwhile, has a 5-game winning streak going, and is 7-3 over its last ten games.
Despite Oakland and Anaheim stumbling, nothing is as yet decided in the AL West, since the schedule for the last ten days of the regular season has a sort of inbreeding feel to it - the AL West teams will play games only against other AL West teams: Oakland will play Anaheim six times, Texas will play Anaheim four times and potential party-pooper Seattle will play four against Oakland and six against Texas. It's going to be interesting to watch how Seattle affects this race - the team has been playing like a real baseball team over the past ten days or so (much to the
frustration of its fans
), fuelled in part by Ichiro's hot hitting. The Mariners don't have a ton of guys who can beat you, but Ichiro getting on base 3, 4 or 5 times in a game can't be good for the Mariners' opponents - with the NL West pennant up for grabs, I initially had the feeling that clubs may well be a little more cautious in the way they pitch to him. Having said that, a glance at
Ichiro's stats
shows that he has the grand total of 96 runs and 56 RBIs to show for his 247 hits, so maybe it's not such a big deal after all, since nobody's getting on base in front of him, and nobody's driving him home.
Whilst we're on the subject of party-poopers, the Orioles managed to halt the Red Sox' momentum last night with a
9-7 victory
, despite an attempted comeback by Boston in the 9th. Tampa Bay, on the other hand, was unable to prevent the
Yankees clinching a postseason spot
for the 10th consecutive season.
You know, I don't hate the Yankees, I don't begrudge them their success and I'm even willing to tip my cap to them for clinching their postseason berth, but what rubs me the wrong way sometimes is the overly business-like way they go about the game of baseball. We all know the party line (toed yesterday by A-Rod: "
It's good to clinch, but we expected that when we came to Spring Training. Our ultimate goal is to be the last team standing in late-October,
") but guys, c'mon, lighten up a little,
show some emotion
. The scene on the field last night: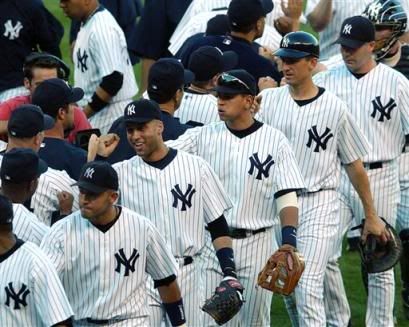 looked more like a funeral procession than a victory celebration - it was depressing enough for me to find myself actually having a warm fuzzy feeling towards Yankee captain Derek Jeter, because at least he's got a smile on his face. Having said that, he'll probably be summoned to George Steinbrenner's office today to explain just what the hell he thinks there is to grin about. Aaah, the joys of life in pinstripes... ;-)