Sweet home Chicago
I'm with Ol' Blue Eyes on this one - last night Chicago was
my kind of town
, at least as far as baseball goes. At Wrigley Field the Cubs battled back from 2-0 down against the Pirates to
win 3-2
, thanks largely to Corey Patterson, who accounted for all three of Chicago's RBIs with a game-tying two-run home run in the 8th inning and a walk-off solo home run - his second of the year - in the bottom of the twelfth.
Cubs' manager Dusty Baker said of Patterson:
"Once you start doing it, you can do it again -- the hard thing is to do it the first time. He's going to be an impact player. He's getting better and better."
Across town, manager of the 'home town' Florida Marlins Jack McKeon was probably thinking the same thing about Miguel Cabrera, who made a major contrbution to Florida's
8-6 win over the Expos
.
Cabrera came to everybody's attention at the back end of last season and showed what a promising young player he was, hitting .268, with 12 home runs and 62 RBIs, over 87 games. This season he's shown that it wasn't mere promise - he has delivered the goods for the Marlins, with a .307 batting average, and a team-leading 29 home runs and 100 RBIs. He does strike out a lot (he has the team lead in
that
category too, with 128), but bizarrely not at the expense of drawing walks (he has 62 walks, which is not exactly Barry Bonds territory, but it is good enough for second place on his team, just behind Luis Castillo).
When I saw this picture of Cabrera: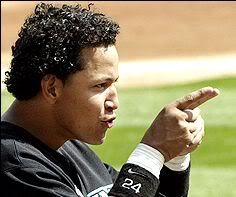 the face and the hair and the gesture made me think of
Manny
, so, just for the hell of it, I checked out a few stats. Below is the comparison between Manny's first 'full' season and Cabrera's season thus far (I can't for the life of me insert a table here, so bear with me...):
G
: 137 / 139 (Manny '95 / Cabrera '04)
AB
: 484 / 524
R
: 85 / 95
H
: 149 / 161
HR
: 31 / 29
RBI
: 107 100
BB
: 75 / 62
SO
: 112 / 128
OBP
: .402 / .381
SLG
: .558 / .532
AVG
: .308 / .307
They're not identical, but they're close enough - this guy is a star in the making.