Told ya
As I suspected, the Yankees didn't fall apart after their 22-0 drubbing at the hands of the Indians. They opted instead for Plan B, which was to send out El Duque and have him give up just one run over seven innings to put the Yankees back on track with a
5-3 victory
.
As
I've said before
, El Duque is one of my favourite players, and last night's game had an MLB play of the day which involved both El Duque and new Baseball Desert favourite Coco Crisp. Coco hit a ground ball to the right side of the infield which was fielded by El Duque, and as they both approached the bag,
Coco tried to dance around the Yankee pitcher
in order to avoid the tag: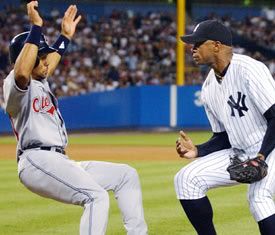 In the end, El Duque just stood his ground, and Coco returned to the dugout whilst El Duque stepped on the bag for the out.
When I saw the play this morning on MLB.TV, it just looked like a great light-hearted moment on the field, but Larry Mahnken suggests that
it was more than just that
:
It was just an out -- and El Duque quickly fell behind Omar Vizquel 3-0 -- but as the crowd cheered, the announcers chuckled, and Crisp laughed in the dugout, all the weight from Tuesday was lifted. This was a new game, and if they hadn't figured it out already, El Duque showed the team that all they could do about Tuesday was move on, play baseball, and have fun. From that point on, I was confident that the Yankees would win.
Meanwhile up in Boston, the Red Sox maintained their momentum with a
12-7 win over the Angels
, although the Yankees' win means that they are still 3 1/2 games behind New York. The Red Sox began their crucial 9-game run against their fellow Wild Card contenders (3 games each against Anaheim, Texas and Oakland) under a lot of pressure, but after two fairly emphatic wins against the Angels, it would seem that
the balance of power is changing
.