Who's your Papi?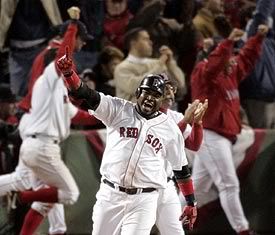 Unbelievable...
No, you're not seeing things, you didn't fall asleep and wake up in
Bill Murray's shoes
: that really is David Ortiz celebrating after his second walk-off hit in under 24 hours. This one was only a single, but it was enough to give the Red Sox an
incredible 5-4 win
in the bottom of the 14th inning.
The game started at 11:10pm here in France and didn't end until just before 5am, and all I can say is that I'm glad I hung in there to see all of it. It was a classic game - not pretty, but intense, hard-fought and, ultimately, exhilarating. As Denton says on Surviving Grady, it was a
redemption song
.
The victory now sets up what was almost unthinkable only a few days ago - Game 6 in Yankee Stadium, with Curt Schilling on the mound for the Red Sox. I've learned enough over the past few days to know that it's not a good idea to count your chickens, so there'll be no rash predictions from the Baseball Desert, just a sincere hope that the game lives up to the rest of the series. I know what outcome I want, and I'll be there rooting for it at 2 o'clock tomorrow morning, but, more than anything else, I'll be enjoying the ride with these 25 guys - no matter what happens from here on in, this team has proved that it is worthy of our support and affection.
Keep the faith...