Dedicated follower of fashion (repeat and fade)
I promise that this will be the last mention of #31 for a while, but I know that there are legions of Red Sox fans out there (well, 2 or 3, anyway) who are worried about the status of my Dave Roberts replica jersey. Well, worry no more - it arrived today safe and sound all the way from from Bangor, PA (complete with more customs documents than you'd see on a shipment of arms). Here it is, hanging in my living-room, along with my brand-new Red Sox cap: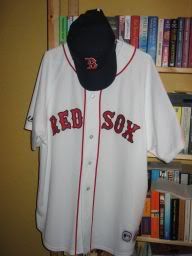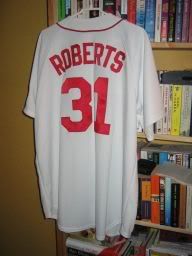 Before you start writing smart remarks in the comments, I
know
that you're supposed to wear it, not hang it on your bookshelf, but I wanted to leave it there this evening so that I could admire it for a while. Tomorrow I'll be wearing it to work. No-one will have the slightest idea who the Red Sox are, let alone Dave Roberts, but I don't care - it will be worn with pride, and from now on there will always be a little part of the Paris suburbs that will be a reminder of The Most Important
Stolen Base
In Red Sox History™ (thanks to
Joy of Sox
for the link).