Opening Day thoughts
In no particular order (and possibly of no particular interest, but hey - it's my blog...):
I'm still having a little trouble adapting to this particular sight.

The sample size may be a little small, but the Tigers' Dmitri Young is currently on pace to hit 486 home runs this season.
I really like the Nationals' road uniforms. The gold-trimmed black lettering on the grey background looks good, and I like the juxtaposition between the funky 'W' on the cap and the classic-looking lettering on the jersey: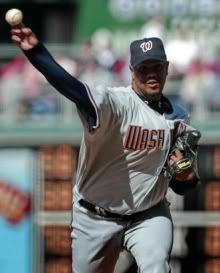 (photo: AP)
It was a good day to be at the ballpark. There was a sense of excitement and anticipation at the games I saw - it's that great time of the year when every fan believes that their team has a shot, if not at the title, then at least at a great season. It won't last, so savour it while you can.