Snapshots
I caught occasional glimpses of the Opening Day ceremony from Fenway yesterday - the rest of the time was spent cursing my ISP for the crappy connection I had (probably some kind of punishment from the gods for
gloating
about being able to watch the ceremony) . There are accounts of the day all over the blogosphere (click on pretty much any
Red
Sox
Nation
link on the right), but I'd thought I'd nonetheless add my two penn'th for posterity.
As others have said, it's a story best told in pictures, so here are the images that will always come to mind when I think of yesterday's ceremony (
all photos AP
):
Absent friends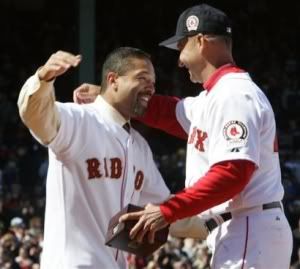 Never has one player earned so much love in such a short period of time (with the possible exception of the OC, who couldn't be there because he had
a baseball game to win
in Texas). It was great to see
#31
back at Fenway, if only for a day.
Class act
The Yankees were there in the dugout to watch the ceremony. They weren't always all smiles, but they showed a lot of respect for the Red Sox and for the game of baseball by being present.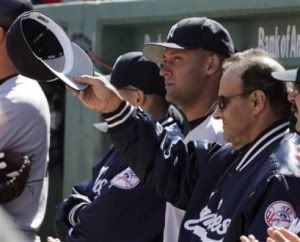 Joe Torre - one of the rare Yankees to get a genuine cheer from the Fenway crowd - tipped his cap to Terry Francona as a salute to Tito's historic 2004 season.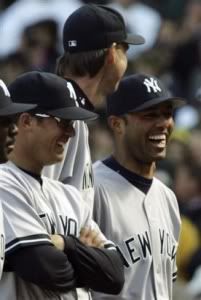 Mariano Rivera got an ironic standing ovation from the crowd, but instead of pretending he didn't hear it, he took it in his stride with a big smile and a tip of the cap. He knows the Red Sox own him right now, so he's dealing with it.
At last (but not least)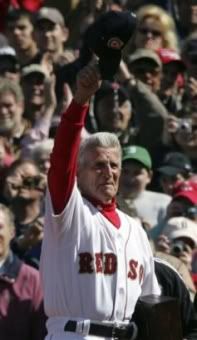 It was a day for thinking about Red Sox players past and present, and nobody represents those two groups better than
Johnny Pesky
. It was great to see him get his ring and raise the championship banner with
Yaz
.
In case you missed it, there was also a game played yesterday, which allowed the Red Sox to put the
icing on the cake
. But, in the end, it was a day that was all about the cake, and it was as sweet as it could possibly be.