A hairy loss
The Red Sox continued their week of philanthropy by letting the 14-23 Oakland A's
beat them 6-4
last night. While a statistician might look at the
box score
and point to the 13 guys left on base as the cause of the Red Sox' downfall, here at the Baseball Desert, we have the real reason: superior beard mojo.
The A's started this guy: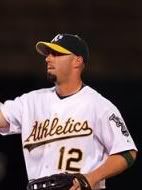 in left field, and any baseball manager
worth his salt
knows that you have to counter facial hair that ugly with some aberration of your own. Unfortunately, the Red Sox refused to start their own bearded Matt (or is it matted beard?):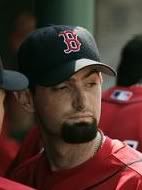 on short rest and ended up paying the price - Watson hit the game-winning two-run single in the 8th inning to give the A's their first win in 9 games.
Clement is scheduled to start for the Red Sox in tonight's game. If you're watching in the company of young children, I suggest you shield their eyes when Watson comes to the plate to face Clement - exposure to that much ugly facial hair in one place could well scar them for life...